Our Wood-Look Tile in Minnesota City, MN, Gives You More Options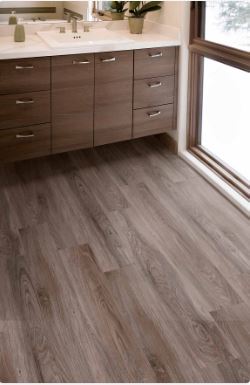 When you choose to invest in new floors for your home, you want to ensure that the end result of your project matches your expectations exactly. If the timeless, elegant appeal of natural wood is part of your flooring vision, getting exactly what you want might seem like a difficult proposition.
Minnesota weather, abundant home activity, and high moisture in certain rooms make it easy for many homeowners to set aside their dreams of wood flooring. At Lyle's Flooring America, you don't have to give up on your ideal floors. We offer wood-look tile in Minnesota City, MN, to give you the flooring options you want without worry.
Where climate and circumstance put the long-term value of hardwood floors at risk, our tiles provide a comparable look with superior resistance to moisture and messes. It's also highly customizable, with a range of options for:
When you want the look of wood without the upkeep of moisture vulnerability, choose our tile to deliver the versatility and beauty your project needs. In our showroom, you can see our products in person and get advice from flooring experts.
Trust Our Experience with Porcelain and Ceramic Wood Tile
Tile flooring usually utilizes one of two refined materials: ceramic and porcelain. We carry both to maximize the options available to you. Our experts help you choose between the two and offer insight into the particular nuances of each brand we sell. That way, you always know you're choosing the best product for your needs.
As part of an expansive network of locally owned flooring stores, we furnish customers like you with the industry-leading expertise they need to shop in confidence when they choose us to provide their tile. Whether you want the durability of ceramic or the polish of porcelain wood tile, we have your project covered.
A Commitment to Customer Confidence
We stand behind the integrity and value of the work we do and the products we provide. When you shop with us, you can rest assured that your premium flooring materials come with industry-leading warranties and customer service.
By giving you the confidence you need to have complete peace of mind about your experience, we continue a longstanding legacy of excellence that you can trust to deliver the atmosphere and character of real wood. Turn to us any time you want absolute assurance and the best wood grain tile available on the local flooring market.

Contact us today to speak with a flooring expert about our range of tile products. We proudly serve Minnesota City, MN, and the surrounding areas.