Embrace the Versatility of Wood Look Tile in Minnesota City, MN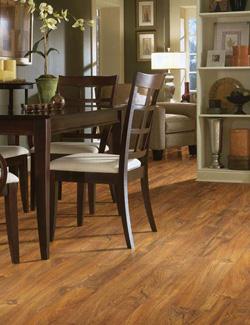 There are flooring options which seem to be the traditional choice for certain areas within a home. A lot of people like carpet in the bedroom and vinyl is a reliable choice for the kitchen. Others prefer to have the classic look of wood in their living room or den. There's one choice, however, which you can place in any room in your home with complete confidence it will stand up quite nicely and look great. Wood look tile in Minnesota City, MN, is that reliable and stylish flooring option.
It offers the beauty of wood combined with the durability of tile which means it has a level of water resistance while also being able to withstand plenty of foot traffic without showing any signs of wear.
You can put one type of tile in your entryway, another in your kitchen, and still another in your living room. Since it comes in a range of tiles that replicate many different species of wood, you can give each room a different appearance while still having the same quality throughout. At Lyle's Flooring America our inventory has exactly what you need.

A Tough Choice that Is Easy to Make
Porcelain is tough; it's a flooring material that can endure pretty much anything and not show any wear. When you want flooring that will last for the long term, then wood plank porcelain tile is the easy choice. Regardless of if you choose porcelain or ceramic wood look tile, installation affords you the creativity of having it installed and grouted for a unique look or have it placed in a stylish pattern to show off your artistic and modern flair.

A Maintenance-Friendly Option
Floors require a lot of attention; it's readily apparent when you consider the fact that they are constantly in use. Every step you take on a floor can add a bit of dust or dirt, and that holds true without even considering anything dropped or dripped on them. Children and pets both have their ways of leaving their marks on flooring and often it's not a legacy you're happy with. Clean-up can be a big chore.
With ceramic wood tile, for example, you don't have to be limited by these considerations and force yourself to opt for the most basic type of floor you can find because you're worried about cleaning or replacing it. Wood look ceramic tile and porcelain wood tile alike can absorb the incidents and accidents of daily life without being any worse for wear. Maintenance is a breeze thanks to its water resistance and strength. Sweep it, wipe it, or lightly mop it and it looks as good as new.


Contact us to learn more about this very versatile flooring option. We proudly serve customers in Minnesota City, Winona, Goodview, Buffalo City, and Dodge, MN, as well as surrounding areas in Wisconsin.