Vinyl Flooring in Minnesota City, MN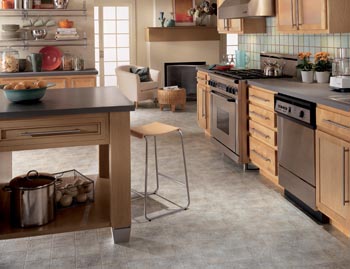 Maximize the value of every dollar you have in your home improvement budget by making the investment in our vinyl flooring. Our showroom is filled with colorful and creative options for any room in your home. If you are in need of a durable variety of flooring that features an unbroken pattern, our vinyl sheet flooring is the answer.
When you visit our showroom, we understand that our vast array of choices can become overwhelming. That is why our staff includes a group of engaging design specialists that are capable of locating the perfect match for your renovation plan. Bring in a copy of your design plan, and let us find the right floor covering for your particular style of home décor. With the latest advancements in imaging and manufacturing techniques for vinyl tile flooring, you can now get the look and feel of tile you have always wanted without spending a fortune in the process.
Fill any room with the character and warmth of hardwood when you take advantage of our broad array of vinyl plank flooring options. These planks are easy to install; and they resist moisture and stains better than traditional varieties of hardwood and slate. We carry all the name brands you know and love, and we help you get the best fit possible in your home with our professional vinyl flooring installation process. From the moment you walk into your showroom until the installation project is complete, the team at our flooring showroom supports you at every step of your renovation journey.
Get the Look You Want with Our Vinyl Products
Cover more of your floors than you ever thought possible when you take advantage of our cost-effective and creative options for vinyl sheet flooring. If you have a busy family with kids and pets, your flooring can take a beating in short order. You need a resilient surface that is capable of retaining its color for years, and it helps to have a floor that is easy to clean as well. Our selection of vinyl sheet flooring gives you an option that is elegant in appearance and easy to replace in the event of severe damage.
This variety of vinyl flooring allows you to maximize the value of every dollar you spend. With advanced imaging and innovative manufacturing techniques, this surface can provide you with an unbroken pattern from wall to wall, and the lack of seams removes an area where dirt and dust often hide. Vinyl sheet and vinyl plank flooring is also resistant to high levels of moisture. Depending on the room you are renovating, this feature can make a big difference when it comes to functionality and value.
With the cost savings involved with monthly maintenance and initial installation are factored in, this variety of flooring gives you the most options when it comes to the rest of your design plan. Our design specialists can look at the space you are decorating, and your available budget, and recommend the right color and variety of flooring for you. In many cases, you can schedule an in-home design consultation as well, so you get the look you have always dreamed of, without any second-guessing.
Make the modern home interior you have seen on the interior decorating shows a reality in your home by choosing from our broad selection of vinyl tile flooring. No matter what type of look you are trying to establish, our vinyl tile comes in a variety that fits your design plan and your budget. Our selection of vinyl tile is available in a broad array of looks, including:
Ceramic
Granite
Travertine
Slate
Sandstone
Limestone
Porcelain
Glass
Create a signature look for your modern home by making an investment in your vinyl plank flooring. This value-added option is affordable and more appropriate for rooms with heavy amounts of traffic and moisture. It is available in a broad array of patterns and grains, including:
Oak
Redwood
Hickory
Pine
Chestnut
Cherry
Walnut
Ash
Maple
Cypress
If you are finishing a basement or redecorating your kitchen and bathrooms, our vinyl plank flooring is a perfect choice at a competitive price. These planks won't expand and contract with changes in temperature and moisture, like traditional hardwoods will. This allows you a level of freedom with your interior design plan that was previously unavailable. With this flooring product, you can enhance the value and appeal of your home without delay. Your home will be more attractive to prospective buyers, and your family will enjoy the natural look for years to come.
Vinyl Flooring Installation with Our Professionals
Protect the investment you have made in your home by choosing our team for vinyl flooring installation. This variety of flooring requires a specialized set of tools and years of experience to install. If any mistake is made, your subfloor could be at risk for moisture and mold.
Our team of contractors is prompt and professional at all times when working at your home, and we leave it looking better than when we arrived. Save time and money on your next renovation project by beginning your planning process with a free consultation. You don't have to worry about needless delays and hidden charges. Our design specialists are ready to help you make your home a showplace.

Contact us today for a free estimate on the vinyl flooring you need to make your home a special place to live. We proudly serve customers in Minnesota City, Winona, Goodview, Buffalo City, and Dodge, Minnesota, and surrounding communities in Wisconsin.