Opulent Tile Flooring
Give your home a stunning makeover with the addition of a tile backsplash or a new set of tile flooring here from Lyle's Flooring America. Our expansive Minnesota City showroom features samples of stone, ceramic, slate, travertine, marble, and porcelain tiles suitable for indoor and outdoor spaces. Consult our design team for advice on product selection and which materials may be best suited for your redesign plan. With are varying shades and patterns, you can have a bold stone patio walkway to complete your backyard oasis. Alternatively, a mosaic tile backsplash for a historic or contemporary home will provide a touch of opulence. Give your bathrooms new life with a durable, ceramic tile floor. Not only will your bathroom look elegant, but your property's value is sure to increase. When you need flooring or wall tile for your next upgrade, turn to our team to help you find the perfect surface solution.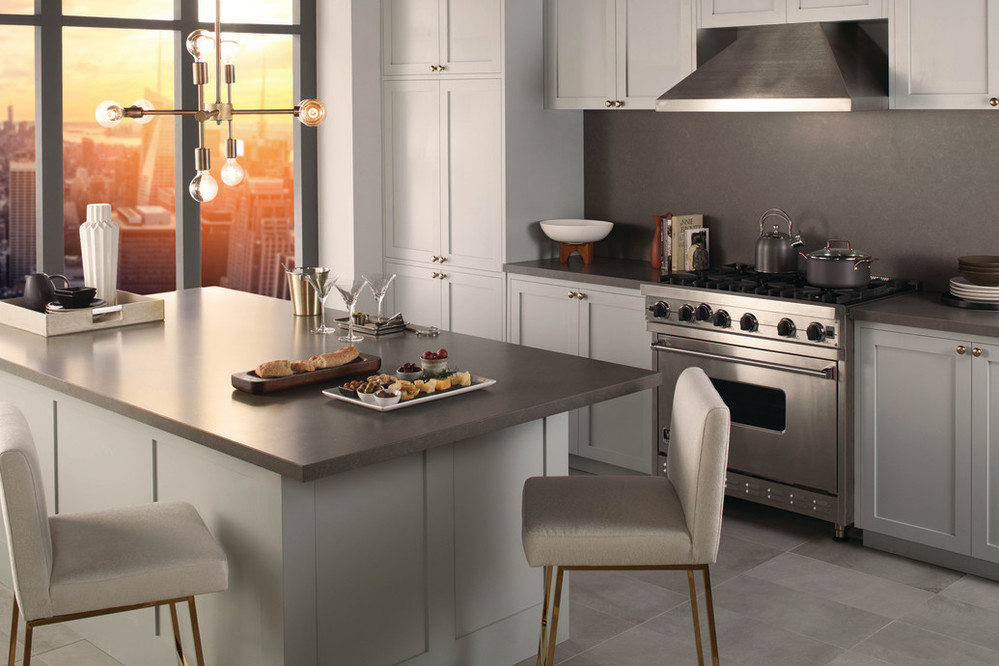 Brand Names Available in Our Tile Selection
At our local store, we offer a variety of tile solutions in many different colors, shapes, patterns, and textures. With so many options available, you have a near-infinite number of possible designs for your new flooring project. Additionally, you can easily match your new tile surface to existing décor or use your new floors as a starting point for a new interior design plan. You can find the following brand names in our catalog:
Spotlight Values
Floorcraft
Emser Tile
Mohawk
Shaw
Marazzi
Daltile
American Olean
Happy Floors
Each of our brands offers a stunning array of different tile options. Natural materials like stone and slate provide an earthy and natural look. The kiln-created ceramics and porcelains can produce several unique designs, including wood-look tile. We offer the following tile materials for purchase:
Ceramic
Crafted from a heating and cooling process using kiln-fired clay, ceramic is one of the most popular selections for both flooring and backsplash designs. While most ceramics offer a glossy, glazed finish, non-glaze tile flooring that contains a pattern prevents slippage underfoot.
Porcelain
This tile is created with the same method as ceramic, though the kiln-fired clay requires a longer heating period. As a result, the finish is denser and more durable than its ceramic equivalent.
Slate & Stone
Stone is one of the best options for outdoor flooring as it can withstand the elements. Slate has an earthy, rich appearance, while travertine, which is made of limestone, has a paler appearance. Both types can be used for interior flooring as well.
Wood-Look Tile as a Hardwood Alternative
Some flooring options naturally seem to be a traditional choice for certain areas within a home. Many people enjoy carpeting in the bedroom for instance and vinyl as a reliable choice for the kitchen. Others prefer to have the classic look of wood in their living room or den. There's one choice, however, that you can place in any room of the house with complete confidence that it will stand up to wear and tear. Wood-look tile is that reliable and stylish flooring option. It offers the beauty of solid wood combined with the durability of natural tile. This tile fashion offers waterproof performance while also being able to withstand plenty of foot traffic without showing any signs of damage.
Easy Maintenance Meets Durability in Tile Flooring
If your home operates at a fast pace, you'll need a flooring material that can withstand your family's busy schedule. Thankfully, tile is an excellent choice for any property. Our tile selection is exceedingly durable, as resists scratches, dents, and stains. Water and spills will not penetrate your subfloor as tile's dense surface and protective grouting will serve as a barrier. For most of our customers, tile is a preferred flooring option in bathrooms and kitchens, with glass or ceramics frequently utilized as backsplashes. While the thought of a backsplash conjures images of kitchen walls, you can also use tile to surround your sink or shower thanks to their waterproof nature.
Additionally, tile floors are naturally cool to the touch, making them very comfortable to walk on during the summer months. In contrast, tile is also very good at conducting heat. In recent years, heated subfloors have become a revolutionized way to keep your home during the winter. Tile flooring can be placed directly over a heated underlay to help keep your home cozy.
To help keep your tile vibrant and smudge-free, we recommend regular vacuuming, sweeping, and use of a damp mop. For a deeper clean, glazed tile may need a strong solution all-purpose cleaner. Unglazed tiles can benefit from paste, water, and scouring powder. We also recommend consulting your product's warranty before purchasing a chemical-based cleaning solution. Our knowledgeable in-store associates are here to make recommendations for cleaning products as you prepare to invest in your new floors.
Professional Installation Services
At Lyles Flooring America, we provide professional installation for all your flooring and wall tiles. Our expert installers have the experience and tools needed to correctly lay your flooring or backsplash. By having our team handle the installation of your tile surfaces, you'll have peace of mind knowing that they will remain beautiful and strong in your home for many years. Our installation crew offers competitive rates backed by our Ultimate Confidence Guarantee. We are sure that you will love our craftsmanship, but should you be unhappy with our flooring install, give us a call within 30 days. We will gladly perform any repairs free of charge.
Get started with your tile flooring upgrade by visiting our showroom and contact us today! We proudly serve customers in Minnesota City, Winona, and Rushford, MN.