Luxury Vinyl Plank Flooring in Minnesota City, MN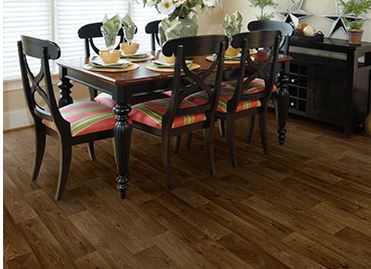 Like many homeowners, you've likely noticed the many benefits of hardwood flooring. Not only is it beautiful and long-lasting, it's also a timeless choice for almost any interior design scheme. Indeed, hardwood is a classic flooring option that offers plenty of value for your dollar. However, thanks to modern advances in flooring manufacturing, you can snag all the benefits of hardwood with none of the drawbacks.
Discover a more enduring and cost-effective alternative in luxury vinyl plank flooring. In Minnesota City, MN, our showroom carries a large selection of LVP products for your consideration. Visit us and see what we have to offer, or ask our trained showroom staff for their assistance – we're happy to help you choose the flooring that's right for your needs. Change your approach to flooring today with wood-look vinyl plank!
Looking for a brand name you can trust? At our showroom, you'll find all your favorite flooring brands. Explore options from trusted names like COREtec, Shaw, Mohawk, Downs, and more.
We guarantee you'll be pleased with whichever floors you settle on – after all, each product comes with a host of warranties designed to provide peace of mind long after you bring home your new floors. If you don't love your four or five-star rated flooring after a month, we'll replace it. We'll even cover the labor when we do – that's how much we care about your satisfaction!
What is Luxury Vinyl Plank?
Chances are you've heard about luxury vinyl tile. Luxury vinyl plank, or LVP, follows the same principle: it's a manufactured flooring option that imitates the look and feel of true hardwood.
However, unlike real wood, vinyl plank doesn't need sealing or refinishing, and you can use it in moist areas like bathrooms and kitchens. True hardwood requires a lot of maintenance as the years go by, and if you don't have the time or energy to look after its needs, it may not be the best choice for you. Opt for LVP instead and enjoy freedom from essential upkeep.
It's well worth your time to ensure your new vinyl plank floors are installed correctly. Choose professional installation with our showroom and rest easy knowing your flooring is in capable hands. With years of experience and all the rights tools, we're well-equipped to lay down flooring materials of all kinds. Let us handle the hard work so that you can start enjoying your new floors as soon as possible.

Contact our showroom staff for more information about luxury vinyl plank flooring. We serve residents of Winona, Minnesota City, Goodview, Buffalo City, and Dodge, Minnesota, as well as surrounding Wisconsin areas.