Update Your Home with Luxury Vinyl Flooring in Minnesota City, MN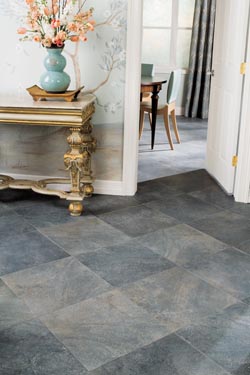 Breathe new life into your home with a new floor from Lyle's Flooring America. No matter the look you are trying to achieve our luxury vinyl flooring in Minnesota City, MN, is the right solution. Designed to imitate natural materials like stone or hardwood, luxury vinyl provides a resilient and cost-effective solution for your property's floors. To learn more about luxury vinyl surfaces or to explore our

Limitless Design Possibilities
Are you looking for the textured appearance of stone or ceramics? How about the timeless look that hardwood gives. When you choose luxury vinyl, you can achieve either of these aesthetics along with countless others.
With luxury vinyl tile, you have the option to mimic ceramic, marble or porcelain, while having a surface that is easier to keep clean. Vinyl flooring is also softer than these other tiles, making it more comfortable for walking on even when barefoot. This allows you to get the fresh look of stone tiles in rooms where you would normally want softer surfaces like living rooms and offices.
If you prefer the wood look, then luxury vinyl planks are the right choice for you. Available in a variety of colors, stains, and shapes, these planks give the appearance of real wood, while providing a much more resilient floor. Additionally, luxury vinyl plank flooring provides robust moisture protection which lets you add the wood aesthetic to rooms where hardwood does not work, such as bathrooms or kitchens.

Built for Real Life
In a busy household, accidents are bound to happen. From spilled liquids to muddy boots, there are a lot of ways for your floor to get dirty. Thankfully with luxury vinyl, these messes are a breeze to clean. Most spills will wipe away with a simple cloth or mop, leaving your vinyl surface pristine.
Furthermore, this resilient flooring provides exceptional waterproof protection, preventing water damage to your floors. This protection also helps to protect your property from mold or mildew growth. This is important for the health and safety of your family and is one of the many reasons why luxury vinyl is a popular choice for basements and bathrooms.

Professional Installation Services
When it comes time to install your new floor, trust our team to take care of the work. We offer a professional and complete installation service to take care of everything needed to correctly install your new surfaces. We have the tools and experience required to ensure your new luxury vinyl tile installation looks as excellent in your property as it did in our showroom.

Contact us when you are looking for a resilient solution for your property's new floors. We proudly serve Minnesota City, Winona, Goodview, Buffalo City, Dodge, and the surrounding areas in Minnesota, as well as Arcadia and Galesville, Wisconsin.