Laminate Flooring in Minnesota City, MN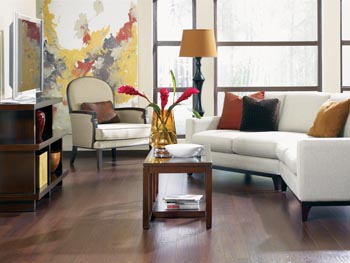 Shop for stylish and durable laminate flooring at our reputable store. No other flooring company can compare to the wide range of laminate floors we offer our customers. One visit to our spacious showroom is all it takes to find the laminate tile flooring or laminate wood flooring you need to upgrade the floors of your entire home, office building, or store. Let us show you around our showroom and answer any of your questions about our laminate flooring options. We are happy to guide you every step of the way—from selection to installation.
Our laminate collections come in a range of styles that vary from traditional to contemporary. You can determine the surface you want among such options as smooth, embossed, distressed or handscraped, and more. Choose affordable flooring from any of our top-notch brands, including all of the following:
Armstrong
Bella Cera
Star Values
Floorcraft
Mannington
HomeCraft
Mohawk
Pergo
Shaw
Once you have made your purchase, schedule an appointment for professional laminate flooring installation with our experienced and skilled crew. The quality of your installation will ensure that your floors look great and last long. No matter what style of flooring you choose, we can lay it down perfectly the first time around.
Improve the appearance of your home or business with whatever size remodeling and renovation budget you have. The choice to use laminates is an easy one. Combining stylishness with strength and durability, your new laminate floors enhance the look of your property are an efficient way to update any room or area. Plus, this flooring is simple to clean—no polishing or waxing necessary—and does not absorb dust, dander, and other kinds of debris.
Which Laminate Option Will Work Best For You?
Laminate tile flooring is manufactured to resemble high-end hardwood or natural stone. At the same time, it withstands heavy foot traffic and is easy to maintain. This material is moisture resistant and easy to install. These cost-effective floors resist scratching and other wear and tear. Because it is easy to install, it is also easy to uninstall should you change your interior décor and want a new flooring product. It is also highly resistant to fading from exposure to UV light.
Best of all, laminate makes a great choice for your home if the quality of your air is a concern. It has a natural resistance to the growth of mold and bacteria, and it is even possible to treat it with allergen-resistant coatings for enhanced protection. Another great benefit of laminate is the fact that is can go over almost any type of flooring with the exception of carpet. So if you are looking for an easy way to save extra money on a flooring job, it is possible we might not have to remove your original floor in the first place. The only way to know for sure is to consult with one of our installation experts.
Wood flooring is great, but there are times when you want flooring that has the look of wood, with more durability and resistance to changes in pressure and temperature. Laminate wood flooring is made from composite wood pressed together. A hardwood image of a specific species is placed on the wood, which covers it and creates a laminate form. Due to its durable nature, this flooring has the capability to withstand a lot of abuse and still look great for years to come.
In addition, laminates are easy to clean and maintain. They remain resistant to both stains and scratches, so you can trust them to retain their finish no matter what happens. Warm water and mild soap are all you need to maintain these floors, along with regular sweeping or vacuuming. The easy-to-clean nature of this flooring also plays a role in increasing its longevity.
Expert Laminate Flooring Installation Services
Whether you have chosen laminate wood flooring for an elegant hardwood look or laminate tile flooring to match your interior décor, we have the right installation team for your specific flooring needs. Our flooring store offers professional laminate flooring installation specialists ready to help you add these floors to your property.
Advanced manufacturing of laminates has rendered it so easy to install that it doesn't even need adhesive. An underlayment material is laid down and the planks or tiles can be easily snapped together. With this process, installing laminates sometimes takes only a day. In addition, our technicians always work on a schedule that you set. We work around your busy household in order to interrupt your daily work or home routine as little as possible.

Contact us for all of your laminate flooring needs. We proudly serve customers in Minnesota City, Winona, Goodview, and the surrounding areas in Minnesota, as well as Arcadia and Galesville, Wisconsin.