Countertops in Minnesota City, MN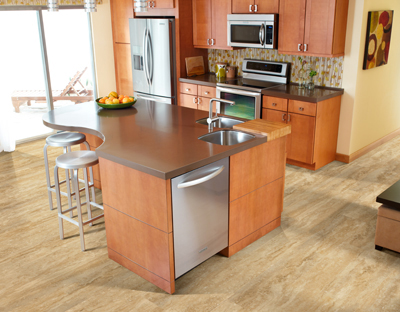 No kitchen renovation is complete without countertops that look great and add functionality to your space. If your counters are damaged, dingy, or poorly made, it just might be time to refresh them -- especially if you are already adding new flooring to the kitchen.
Although our store is best known for competitively priced flooring products, we are also a prime source for kitchen countertops in Minnesota City, MN. Our inventory include granite, quartz, and marble counters, as well as other options that add value to your home, increase your usable kitchen space, and create a look that revitalizes your entire home.
Since our showroom is stocked with many options from several trusted brands, you can make an informed purchasing decision by only visiting one store. There's no need to shop around or do research -- our team members are happy to help you explore the numerous products available and answer all your questions. We'll even make a recommendation based on your project goals and budget. Transform the heart of your home into a space you love to show off to friends and guests by adding new kitchen countertops from our store.
Benefits of Investing in Stone Countertops
Whether you choose granite, quartz, or marble, adding stone countertops to your home increases the value of your property and improves the way you feel about your space. Our store associates care about customer satisfaction. We believe your experience starts when you first walk in our doors and finishes once the new piece is added to your home. We encourage you to visit our showroom to check out our stone countertops for yourself. While you explore, our team members will be happy to tell you about the many benefits of granite, quartz, and marble countertops, including:
Durability and Scratch Resistance
Increasing Your Useable Countertop Space
Complementing Your Home Décor
The Ability to Endure Hot Pans without Staining
No Need to Replace for a Considerable Amount of Time
A One-of-a-Kind Look that Simply Cannot Be Replicated
Increasing the Value of Your Property
A Polished Look that Is Easy to Clean
Our sales associates are also happy to answer your questions about the differences between countertop materials and styles. We can even make a recommendation for you if you have trouble choosing the ideal product for your home. Basic information about countertop types is available below.
Granite Countertops: Perhaps the most popular choice throughout the nation, granite is a great material for countertops since it is durable and scratch resistant. It comes in a wide variety of patterns, so it is easy to find a style that matches your interior design. Each slab of granite contains different hues, which many people find highly aesthetically pleasing. Furthermore, granite is one of the most affordable options for counter materials.
Quartz Countertops: Also known as engineered stone, quartz is similar to granite but composed of very different materials. Granite is mined from pure stone, but quartz counters are created from crushed quartz that is mixed with a pigment and a resin binder for a more consistent coloration and better strength. Since quartz counters are made to be non-porous, they resist staining and other damage better than granite and marble variations.
Marble Countertops: While marble is typically softer than granite and quartz, it is still incredibly strong and holds up well to the daily damage a busy kitchen can deliver. Homeowners across the country love its unique look and the elegant appeal it adds to a kitchen. Since marble is often associated with classical sculptures, it lends your home a distinguished character that other countertop materials cannot match.
A Stress-Free Renovation Experience from Beginning to End
Enjoy a stress-free renovation experience by working with our company. From shopping to countertop installation, we strive to make the process as easy and pleasant for you as possible. As a company that employs only the most qualified individuals, we are sure you will get the right service from our sales team. Our sales associates know all about the inventory we keep in our showroom and can answer any questions you have. Whether you prefer a hands-off experience or want us to stay involved in the selection process, our team can guide you toward the right kitchen countertops for your home.
Once you make a purchase from our store, we are available to install it for you. There is no need to search for a reliable contractor because we have our own certified installers on staff. Our skilled and experienced team makes sure all of the work is done properly and with care. Your new countertops are installed to last and will line up with your walls as they should. We do everything possible to complete the job quickly and efficiently so as to inconvenience you as little as possible. Trust us to be respectful of your family and your possessions during countertop installation projects.
Interested in adding new floors to go with your new counters? Our sales associates help you find the ideal flooring to coordinate with the rest of your kitchen. With hardwood, tile, laminate, and luxury vinyl options available, you are certain to find a style that matches your design preferences and your budget. All of our products come from trusted manufacturers and are priced competitively. We look forward to helping you find surfaces that heighten the beauty and functionality of your home's kitchen. Visit our showroom today to get your renovation project started.



Contact our store to learn more about our kitchen countertops and flooring products. We proudly serve Minnesota City, Winona, Goodview, Buffalo City, Dodge, and the surrounding areas in Minnesota, as well as Arcadia and Galesville, Wisconsin.