Area Rugs in Minnesota City, MN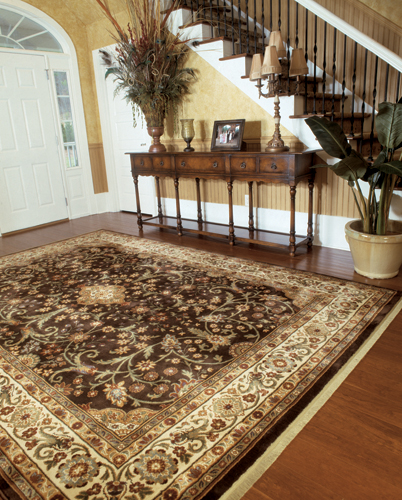 Add the perfect finishing touch to your hard-surface flooring with our selection of area rugs in Minnesota City, MN. At Lyle's Flooring America, we feature a full selection of rugs in sizes and styles designed to fit every room in a home. Whether you are shopping for the perfect ready-made product for your living room or you are interested in choosing the details of your custom rugs, we have the right option for you.
We invite you to shop with us to discover our collection from the top brands in the industry today. If you can't find the perfect area rug match, our designers can draft a custom design that checks all your boxes. With our help, you can have the one-of-a-kind rug that reflects your one-of-a-kind personal style. Visit our showroom today to make the right addition to your space.
Whether you're looking for large living room rugs or a small carpet for the foot of your bed, we have you covered. Talk to our professionals today about what you want and need from your next area rug. Our sales associates are happy to help you decide on the perfect product for your home. No matter what you purchase, you can expect the following advantages from our products:
Protection of Hard-Surfaced Floors
Added Style
Enhanced Comfort
Extra Safety from Slips and Falls
Quality Rugs from Top Brands
Whether you know exactly what you are looking for or you need a little bit of inspiration, you can count on us to deliver something that you will be proud to show off. You have spent a lot of time, energy, and money making your home the best that it can be. When you are choosing a new area rug for your entryway or living room, don't sacrifice quality just to save a little bit of money on your purchase. Area rugs are available in a number of price points, and there is something for everyone.
At our showroom, we make it possible for you to add a fresh look to your space at a price that fits your budget needs. Our diverse selection of stunning area carpets come from some of the industry's most well-known and well-respected brands such as Milliken Floor Coverings. By shopping with us, you will choose a rug that looks beautiful and holds up to frequent use.
We all have our own tastes and style preferences. At our showroom, we have learned that two people have the exact same personality, style, or home. If you have spent all day shopping around and just can't seem to find the right rug for your home, discuss your design ideas with our staff. Our goal is to make it easy for you to create a look that you love throughout your space, so we offer custom printed rugs and carpets in endless style options.
Whether you shop with us for living room rugs or bedroom rugs, we make it easy for you to personalize your products to fit your home's existing décor. From the size of the rug to the colors and prints, you have the ability to select every component of your new piece. Our goal is to leave you loving your finished product.
Shop with Us for New Bedroom Rugs
Don't let your hard-surfaced flooring keep you from experiencing the luxurious plushness of carpeting. Whether you have hardwood or vinyl flooring in your home, you will find products at our showroom that let you enjoy the best of both worlds. Our wide variety of area rugs includes options that fit your specific taste preferences and interior design goals. We feature products that make the perfect addition to any interior space.
With so many options to choose from, it can be difficult to decide on the right rug for your home. Fortunately, we are here to assist you with the selection process. In addition to our vast product offerings, we also offer our extensive expertise to every customer. Our professionals help you determine what would look best in your home based on your personal style and the spatial limitations of your living space. Then, we pare down our huge selection into a more manageable few samples all targeted to meet your unique needs and preferences.
Count on us to give you the perfect rug for your home. When we pull samples of our bedroom rugs and other products from our inventory, we do so with more than just style in mind -- we also think about the practical benefits. Our water-resistant rugs offer stunning styles that hold up to frequent use without extensive damage of time. No matter where in the home you plan on putting your new rug, you can have the satisfaction of knowing you have the right rug for the job.

Contact us to learn more about our selection of area rugs. We offer top product options for customers throughout Winona, Goodview, Buffalo City, Dodge, and Minnesota City, Minnesota.